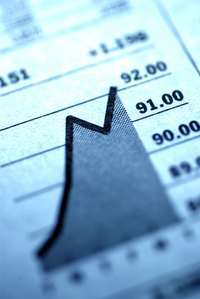 Options are financial instruments that give the holder the right to buy or sell assets, such as stocks, at a predetermined price on a future date. Options are highly risky because their prices fluctuate far more wildly than the stock to which they are tied. Therefore, obtaining option trading clearance on your brokerage account requires an approval process.
Open a brokerage account. Shop for a brokerage firm and find one whose prices and services you are happy with. Before opening an account, make sure the broker offers options trading services as well as stock brokerage. Today, practically all major brokers with nationwide offices are active in the options market. Once you decide which firm you will go with, download the account application forms, print them out, sign and send them in. Since your signature must be on file, you cannot complete the process online and must mail in the forms. If you do not have access to a printer, ask the brokerage firm to mail you an application package.
Apply for options trading after you mail in the documents and successfully open a brokerage account. Because options are highly risky instruments, you must submit a separate application -- which you can complete online -- for options trades. In this application, you will detail your past experiences in financial markets as well as your risk tolerance. Approval for options trades is not guaranteed and your application might be rejected. It is in your best interest to not misrepresent your past experience in the financial markets. You will receive written or electronic confirmation of the approval or lack thereof and, if approved, you can start trading options immediately. Note that there are several levels of options trading approval and if you have only a moderate amount of experience in the markets, you may be allowed to execute only certain, relatively low-risk options trades.
Educate yourself about options and study the stocks on which you wish to buy options. When trading options, you must work twice as hard as you would when dealing with stocks. The price of a stock option is determined by the price swings of the underlying stock. This relationship, however, is complex and rarely makes sense until you put in the effort to understand options theory. Once you do, you must also thoroughly understand the stocks tied to your options and proceed with care. The Chicago Board of Options Exchange's online curriculum for novice and intermediate options traders is an excellent first step toward understanding options.