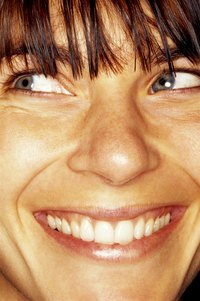 Side bangs are a stylish alternative to those who don't suit straight, bobbed bangs. They require careful attention to detail and knowledge of the client's hair. They must be cut when your hair is wet, or you won't get the cut precise enough. However, all hair gets shorter when it's wet. For curly hair, you must be especially careful to know your hair well enough to avoid cutting bangs that are too short.
Things You'll Need
Scissors
Comb
Ponytail holder
Wash and thoroughly condition your hair. Wrap it in a towel to remove excess moisture. Comb your hair out and sit in front of a mirror.
Comb the front section of the area you plan to cut, starting from the outer corner of the opposite eye and combing forward. The amount of hair you comb depends on how far back you want the side bangs to go. Once you have the area of bangs that you want to cut into side bangs, pull the rest of the hair back and secure with a ponytail holder.
Hold the scissors to cut at an angle, starting diagonally from just below the opposite eye from the side part from where the bangs will sweep. Keep angling down at the same angle toward the middle of your cheek, stopping at just before your ears. Trim any strays you may have missed.