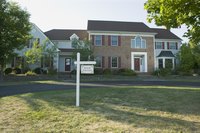 Lenders often require homeowners to describe their circumstances in a hardship letter before the lender will approve a short sale. These letters should be truthful, concise and respectful. If you are concerned about writing your letter correctly, contact a HUD-certified housing counselor for assistance. Finally, not all lenders accept hardship letters. Your lender may instead provide you with a hardship form to fill out. Check with your lender about its process.
Explain Your Request and Situation
According to Nolo.com and Michigan State University Extension, you should begin the letter with your request for a short sale approval. Next, explain your circumstances and why your circumstances make it difficult or impossible to afford your mortgage.
Explain why a Short Sale is Necessary
After describing your situation, briefly explain why a short sale is in the best interest of both yourself and your lender. This can be as simple as noting that if you cannot sell your home, the home is likely to go into foreclosure.
Include Documentation
Include supporting documentation of your financial situation, such as pay stubs, and the specific events that led to your financial crisis. If you are unemployed, include a copy of your termination letter or unemployment insurance certification. If you are ill, include a doctor's note or copies of hospital bills.