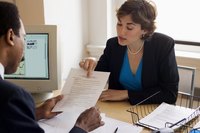 Choosing a career can be an overwhelming task. Since most people spend the majority of their days working, your chosen career should help you to lead a fulfilling life. Time spent in self-reflection to determine your goals and skill set will assist you in finding the kind of work environment that is ideal for you. Research the kinds of jobs available to get started on finding that perfect fit.
Identify your talents. Make a list of things you're good at. These might include strong writing skills, excellent math skills, good coordination and physical strength, interpersonal communication or diplomacy. Supplement your skills list with a list of things you enjoy doing. You may enjoy building furniture on the weekends, or landscaping at your home.
Identify your ideal work environment. Some individuals are most comfortable in an office environment, with regular access to technology, a desk and paperwork. Others would choose to work outside, either in nature or in the activity of an urban setting. Ask yourself if you work well with deadlines or prefer to have a flexible work submission schedule. Determine whether you would like to work among colleagues, with customers or in a more solitary work setting.
Identify the moral and monetary aspects of your career goals. Ask yourself if you would like to work toward a cleaner environment, poverty eradication or other humanitarian goals. Also ask yourself if you plan to make a high salary; do your best to nail down a specific target salary figure. Try to envision how your career fits into your overall life plan: ask yourself if you would be happy spending the majority of your time working, or whether you'd prefer to have a career that balances work with family and home life.
Research different careers. Take online career quizzes to help you determine how your personality matches with different job options. If you're a student, contact the Career Services office of your school to speak with a counselor about choosing a career path. Utilize government resources, such as the Bureau of Labor Statistics Occupational Outlook Handbook, to educate yourself about the training required for different careers and their job prospects.
Talk to others you respect about their career choices. It will be particularly helpful to seek the advice of a professional who is well-established in a career that you are considering. Ask her what she considers to be a strong personality fit for her profession, based on her experience. If you do not know any candidates personally for this kind of discussion, ask your school's Career Services office if they can link you with a mentor. If you are not a student, network at events attended by such people and see if you can strike up a conversation.
Try out a potential career by completing a co-op term or internship. Sometimes the best way to find a career that is a good match for you is to try it out. Apply for co-op work terms in conjunction with your schooling or find internships with private companies in the field you are considering. You may discover that you want to switch to something else immediately, or that it's exactly the career for you.