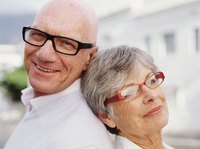 You can save money on prescription eyeglasses by purchasing them online. It might not be possible to try them before you buy but there are things you can do to ensure that you are satisfied with your purchase. Success is easier to attain with straightforward prescriptions. Leave complicated prescriptions that require intricate measurements for your optician.
Get a Prescription
Obtain your prescription from your optician. It is current if it is from an eye exam you had within the last three years. If it is older, visit your optician to find out if there have been changes in the quality of your vision since your last visit and obtain a new prescription. The frequency of your visits depend on your age and condition. For instance, people in their 20s to mid 30s should have an eye exam every two years. Older individuals and people with a disease like diabetes, should have one every year.
Pupillary Distance
The pupillary distance is the distance from the center of the pupil of one eye to the center of the other. This measurement is necessary for lenses to be accurately designed for your eyes. Your optician can measure you, which is best, or you can do it yourself or have a friend help you. Online prescription eyewear retailers provide step-by-step instructions you can follow.
Finding Your Style
Find out what type of style you are most interested in that fits your face. Visit your optician's office or a store that sells eyewear to try on the different styles and find a style that fits your face. When you find one that you like, check the frame for the name or number and write it down. Several online retailers sell the same brands you can find at local stores and often at lower prices. Some also sell comparable versions of trending styles, and you might be able to find them with information from the originals.
Locating Online Eyeglasses Retailers
Talk to people who have purchased eyeglasses online before for a list of reputable retailers. You can read reviews of these companies on an authoritative site like bbb.com, from the Better Business Bureau. Examine each retailer's website and compare them on factors like inventory, price, return policy and extra conveniences. For instance, one company may send up to five eyeglasses for you to try for five days before you buy while another may give you up to a year to return the glasses.
Place Order
Place your order when you have selected the eyeglasses retailer that suits your needs. Choose from the seller's inventory, according to the style you like. Some may allow you to upload a picture of your face so you can try the glasses virtually. When you are satisfied with your selection, type in your prescription, papillary distance measurement and any other required information. Follow the prompts to enter your payment details and complete the transaction.