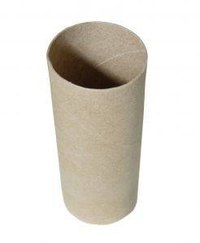 Finding new uses for things you would otherwise toss in the garbage can is both thrifty and environmentally friendly. So many items that we have come to throw away without a second thought can actually become handy household items, elements of craft projects, and replacements for items you would otherwise spend good money on at the store. Some people shun the use of disposable paper towels altogether, but using them does not make you a bad person. Go the extra mile and make use of the cardboard tube left when the roll is gone.
Things You'll Need
Wrapping paper
Tape
Scissors
Ribbon or yarn
Packaging tape
Toothpicks
Rice
Craft paper
Use paper towel rolls to wrap gifts such as t-shirts, barbecue tools or small toys. Slide the gift into the tube and wrap with gift wrap, leaving an even amount of overhang on each end. Bundle up the excess on the ends and tie with ribbon or yarn so that it looks like a party cracker or piece of candy.
Get a grip on that mess of cords and wires. The back of your computer desk or entertainment center likely hides a conglomeration of power cords, connectors and other wires. Neaten and contain the jumble by unplugging them, sliding them through one or more empty cardboard tubes and then plugging them back in.
Make a rainstick. Kids will love playing with their own mini version of this South American instrument. Close one end of the tube with packaging tape. Pour a handful of dry rice into the tube. Poke multiple toothpicks into the sides of the tube, down the entire length. Cut off any pieces of toothpick left hanging out; they should be flush with the tube. Cover the remaining opening with tape, and wrap the tube in craft or butcher paper. When tipped over, the rice will trickle down hitting the toothpicks and creating the enchanting sound of rainfall.
Tape the tube to your vacuum cleaner's extension hose to allow you to reach the ceiling fan or other hard to reach areas. This works great if you do not like bugs and need to get rid of one, since it gives you a little more distance from the creepy crawly critter. Just let the vacuum hose with the tube get rid of it for you.
Use them in your closet. A tube tucked in each boot leg will keep them standing upright and help them hold their shape. Slice a tube lengthwise and wrap around the bottom of a clothes hanger to prevent pants from becoming creased.