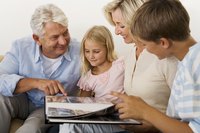 Grandparents are an irreplaceable part of the family. They share invaluable gifts of wisdom, knowledge and memories. They enrich families with a perspective that only years of life experience can instill. Honoring grandparents provides the opportunity for grandparents to show love for their children's children and to help children become aware of the strength, information and guidance grandparents posses. Often, only grandparents have knowledge of family histories. When they pass this information down to grandchildren, they help preserve the family heritage. Help your kids show appreciation for their grandparents by helping them make a grandparent appreciation book.
Things You'll Need
Old family photos
Digital camera
Computer
Printer
Photo paper
New photo album with front cover and page picture pockets
Gather your family's old pictures and photo albums. Ask your children to help you sort through them and choose pictures of memorable moments throughout your family's life. Focus on memories that share the theme of grandparent appreciation and love.
Take new pictures of your family with a digital camera. Ask your children to take pictures of each other and family members. They could add meaningful props, such as something their grandparent made, taught, or gave them that they appreciate.
Involve your children in importing the new family pictures from your digital camera to your computer. Print them on photo paper, or simply have them printed at a photo shop.
Ask each person in your family to write or draw a narrative that expresses love, gratitude and respect for the grandparent. Encourage your children to add comments about special memories or humorous times with their grandparents. Add things you are hopeful to share in the future, as well.
Insert the older family photos, current pictures and narratives into the picture pockets within the pages of a new photo album. Let your children choose the arrangement and assist in ordering photos chronologically, from oldest to most recent.
Share ideas for decorating the picture pocket on the cover of the album with your children. Insert a special picture or the grandparent's name, for example, to create a personal grandparent appreciation book that will share the spirit of family love and gratitude for years to come.