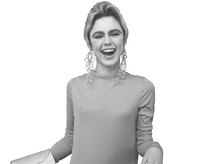 Edie Sedgwick, one-time Andy Warhol "superstar," is no longer with us but her sense of style continues to inspire fashion mavens. The 2006 film "Factory Girl," starring Sienna Miller as Edie, is proof of this, considering it was released 35 years after Edie's death. Even if you have no aspirations towards becoming the tragic muse of any artist, you can capture for yourself the same quirky style that Edie made famous in her day. Among the looks you will find of Edie in photographs, those showcasing her heavily mascaraed kohl-rimmed eyes remain among the most popular. Experiment with these steps until you can comfortably recreate your own version of Edie's mod eyes.
Things You'll Need
Foundation and concealer
Makeup sponge
Brow grooming tools and color
Eye makeup primer
Matte white or vanilla eyeshadow
Skinny eyeliner brush
Highly pigmented black eyeshadow
Eyeshadow blending brush
Sheer gray eyeshadow
Black liquid eyeliner
White eye pencil
Black kohl eyeliner
Eyelash curler
False strip eyelashes
Black mascara
Apply foundation to clean eyelids as well as the undereye area. If necessary, cover dark circles with creamy concealer a notch or two lighter than your skin tone. Your focus is on your dramatic eye makeup, not on any blemishes or missteps, so make sure to blend demarcation lines with a sponge.
Clean up your eyebrows. You don't need thin brows for this look, but they do appear more attractive without strays and overgrown hairs. Tweeze and trim these away accordingly before defining your brows. With a brow pencil or powder a shade or two darker than your natural brow color, fill brows in with short and light strokes to simulate the appearance of small, fine hairs. Don't just eliminate any gaps or sparseness between hairs--enhance your brow shape and bring out your arches. Edie's brows were bold. As they were several shades darker than her platinum-colored hair, the contrast created was stunning. You don't have to be as daring, although it helps to keep this in mind if you are attending a costume party and want to capture the look accurately.
Smooth an eye makeup primer onto lids. Sweep on a matte white or vanilla eyeshadow from lash line to browbone. Don't worry about it appearing too stark as the deliberate white is part of the look. Dip a wet skinny eyeliner brush into a highly pigmented black eyeshadow. Tap off excess before drawing on a crease over your actual crease area all the way into its inner corners. Extend the outer edges on your top lash lines until they meet the outside ends of the line you've created (see Image). Allow to dry. Since you need a definite line in place of the flawlessly blended contouring used in typical beauty makeup, you might want to practice a few times before you are satisfied with your work.

Use an eyeshadow blending brush to buff a sheer gray eyeshadow on from lash line to browbone. Be careful to not disturb the strong black line on your crease. Line above top lashes with a black liquid eyeliner. Gradually thicken your application from the middle of the eye outwards, where you wing out the edges. Run a white eye pencil along the rims of your lower lash lines. On the lower lash lines themselves, smudge on a black kohl eyeliner.
Curl eyelashes prior to applying false strip ones. Gauge how dramatic you want these to be by your comfort level. Stroke black mascara onto both your real lashes and the fake ones, pressing them together so you don't appear to have two separate sets growing from your top lids. Touch the tip of your mascara wand to bottom lashes as well to give them a light coating. Finish off by cleaning up any product fallout underneath your eyes.