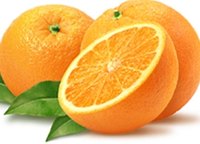 Want an all-natural exfoliating scrub? Sometimes the best beauty products can be found in your cupboard. Oranges are not only tasty and delicious, they're great when applied topically to skin. Oranges are rich in Vitamin C, which is one of the most vital ingredients to create vibrant skin. Feel fresh, energized and radiant by using an orange exfoliating scrub made at home.
Things You'll Need
1/2 orange
4 tbsp. cornmeal
Juicer
Peel the orange. Be sure that all of the tough skin is completely off the orange.
Take an orange and squeeze the orange pulp and juice into bowl. You can hand-squeeze the oranges or use a juicer.
With a spoon, mix the ingredients. Mix the orange and cornmeal mix into a bowl until it becomes a paste.
Take a shower or bath. Be sure to clean your body thoroughly.
Apply the orange exfoliating scrub onto your face and body. Scrub for approximately 3 minutes, then rinse completely.