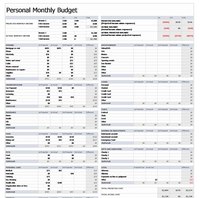 The most basic tool of personal finance is your budget. Creating a personal budget will give you an accurate picture of your financial standing, and will help you to make the responsible decisions needed to reduce your debt and live within your means. In just a few steps, you can easily create a personal budget with Excel. A personal budget is a powerful tool that can provide you with the clarity and organization needed to help you gain control of your finances.
Things You'll Need
Go to Microsoft's official site online for downloading Office templates.
Go to the "Collections" section in the left column, and click "Finance and accounting."
In the middle column of the page, go to the section "Personal Finance." Click "Personal and family budgets."
Browse through the personal budget templates, and find one whose design, layout and organization suit your life and needs.
Click the title of your chosen template, and select the "Download" button. Click "Accept" to consent to Microsoft's service agreement and to begin the download.
Open your downloaded template with Microsoft Excel. Adjust and customize the categories to reflect your income and expenses. Input data to create your personal budget.