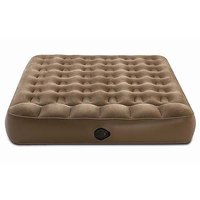 Experience a spa-style body wrap at home. Caffeine has recently been known combat cellulite, many cosmetic companies and spas offer cellulite reduction using caffeine. For years seaweed body wraps have also been proven to reduce inches from the body by eliminating harmful toxins. Now you can make your own caffeine and seaweed body wrap and experience a spa treatment whenever you want.
Things You'll Need
Space Blanket
Vinyl Air Mattress or Bed-sheet Size Plastic Cover
5-lbs Coffee Grounds
20-oz Seaweed Massage Oil
Anti-cellulite Moisturizer
Prepare the body wrap. Mix the coffee grounds and the seaweed massage oil in a bowl. You can add more coffee or oil to the mixture if you choose. The goal is to make the coffee grounds stick to the skin.
Place the air mattress in the room you create your spa. If your bathroom is large enough it is an ideal place to do this because it is easier to clean, remember the coffee will stain carpet and fabric so be thoughtful of the location.

Spread the space blanket evenly over the air mattress. You will need a space blanket large enough to wrap your body in. Space blankets radiate about 80% of your body heat. Using a space blanket is a cheap alternative to the sauna blankets used in spas.

Take a 20-30 minute bath to relax and open your pores. Dry off completely and move on to the room where you will apply the wrap.
Spread the coffee-seaweed mixture all over your body like lotion. Lay on the middle of the space blanket and pull the sides over you to cover your body.
After 30-60 minutes in the wrap rinse off. Don't use soap just make sure you get all the coffee grounds off your body, the seaweed oil can continue to work it's magic on your skin.
BONUS: The coffee grounds also help exfoliate your skin.
Dry off and apply anti-cellulite moisturizer all over your body; preferably caffeine infused to continue the caffeine treatment.