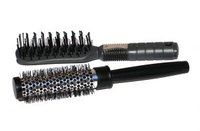 Having an attractive head of hair can spark confidence as well as enhance your appearance. While some opt for longer hair styles, short hair has always been a viable style option. The many benefits of short black hair styles include decreased styling time and chance of hair breakage. Caring for black short hair doesn't have to be a painstaking ordeal if you maintain a regular hair care regimen.
Things You'll Need
Hair Scissors
Shampoo
Conditioner
Trim your hair regularly. Use sharp hair scissors to clip the ends of your hair at least every six to eight weeks. Taking off an inch of hair can make your hair healthier in the long run. This applies to both relaxed and natural hair styles. Since black hair is prone to breakage, it's important to stay proactive to prevent these types of problems. Issues like split ends can cause undue stress on the hair and lead to increased hair damage.
Wash hair regularly. Commit yourself to a once a week hair washing schedule to maintain your short hair style. Since black hair is prone to dryness, washing your hair too often can actually cause hair damage by stripping your hair and scalp of their natural lubricants. Use a protein-enriched shampoo to smooth and protect your hair. Adjust your schedule to account for participation in athletic activities such as swimming or running to prevent clogged pores and dandruff. Towel blot and apply conditioner to your hair immediately after washing to lock in essential moisture.
Apply daily moisture. Use products containing natural oils like coconut and jojoba to provide necessary moisture to your hair and scalp. Choose lightweight grease and crème products according to the texture of your hair. For example, relaxed hair may require different preparations than natural hair. Using the appropriate amount of moisture will leave your hair shiny and less susceptible to breakage. Adjust your usage of moisturizing agents to fit your activity level and usage of heated styling tools. Add more moisture on days you use a blow dyer or flat iron to style your hair.
Condition the hair regularly. Use a combination of leave in and wash out conditioners to help soften and detangle black short hair. The conditioning process helps stabilize the hair after both routine and traumatic hair incidents. For example, damage from daily styling and adverse weather conditions can be reduced through regular conditioning. Deep condition your hair using a hot-oil treatment once a week to get an extra health and shine boost.
Use natural styling techniques. Promote hair health by limiting usage of products and tools that dry out your hair. Although tools like flat irons and blow dryers make hairstyling more convenient, heavy usage can result in hair damage. For example, roller-set your hair a few times a week instead of using a curling iron to help prevent hair breakage. Allowing your hair to air dry is another way to reduce the amount of damage from styling tools.