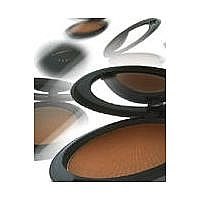 We all know how damaging the sun can be, that's why using a bronzer is the ideal way to add that sun-kissed glow without lying in the sun. Not only is it easy to apply, but also conceals, evens out gives a more toned appearance.
Things You'll Need
Bronzer (powder)
Bronzer brush
Exfoliate skin and dry completely.
After applying loose translucent powder, apply the bronzer in a circular motion, avoiding the eyes and around the lips.
Note: put less bronzer on the face if it is lighter than your arms.
For a more natural, look focus on the places where the sun usually hits; the cheekbones, nose, chin, ears and collarbones. Though bronzers hide blemishes, it also highlights wrinkles - so apply sparingly in those little crinkles.
As all tan comes with a little burn, aApply a pink blush onto the apples of the cheeks to mimic the burn.
With your chin up, apply the bronzer to your neck.