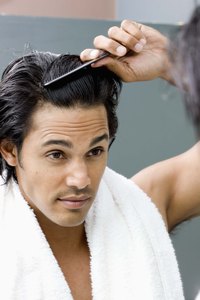 Dandruff is a broad term referring to white flakes on the scalp and in the hair. While the symptoms may appear much the same, there are many causes, including over-production of skin cells, dry scalp, fungal infection and seborrheic dermatitis. Seborrheic dermatitis, known as cradle cap in babies, also produces greasy patches on the scalp. The cause of is not known, but it's believed to be related to hormones or overgrowth of a fungus commonly found on the scalp. The best treatment for dandruff is shampoo containing specific ingredients.
Read the ingredients on shampoo bottles. Dandruff caused by over-production of skin cells due to fungus or seborrheic dermatitis responds to zinc pyrithione, selenium sulphide and ketoconazole. The best shampoos contain these active ingredients in combination with other additives.

Compare shampoos for the amount of the active ingredient. Read the full instructions for each brand. Selenium sulphide is considered a stronger treatment than zinc pyrithione. Ketoconazole is a synthetic anti-fungal agent also used to treat fungal infections, such as tinea versicolor, found on other areas of the body. Compare the characteristics with your symptoms to determine the best dandruff shampoo for you.
Use a shampoo containing tea tree oil if you prefer natural ingredients. Tea tree oil is a natural anti-fungal agent effective against dandruff caused by the yeast Pityrosporum ovale. Shampoo containing five percent tea tree oil reduces the over-production of skin cells caused by this yeast.