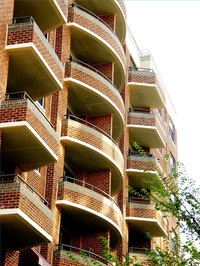 Buying a condo can be a good way to get into your first home or to downsize from a larger home. But living in a condo is quite different from living in a single-family house. You own the space within your unit but not the outer structure of the condo or the ground on which it sits. There are rules to live by, monthly condo fees to pay and adjacent neighbors to consider. Before buying a condo you'll want to ask a few key questions to fully understand what you are purchasing.
Ask for, and inspect, a copy of the condo's bylaws and covenants to be sure you can live with the regulations. For example, you may not be allowed to install a satellite dish or park in certain areas. Find out if pets are allowed, and if so, what size pets. Ask as many specific questions as possible before buying a condo.
Ask if the condo complex is professionally managed. Some condo complexes are self-managed, meaning all the hiring of trades people and legal professionals is left up to the members of the Homeowners Association board. This can work in a highly motivated and well-organized association but can be ineffective, if not disastrous, if board members cannot agree on important matters.
Look at the turnover rate among elected Homeowner Association board members. These are the people who can ultimately decide on everything from assessment fees for association expenditures to whether a unit owner may install a canopy over her patio. If members resign frequently, it is a sign that turmoil exists within the board.
Find out how many units are owner occupied. Owner occupied condos are more likely to be kept in good repair than rental units. And banks are much more likely to extend mortgages to buyers of condos where owner occupancy is high. This becomes important if you want to resell your condo.
Question the developer. Does he retain ownership of any of the amenities, such as the parking lot or an aquifer which supplies water to the units? If so, he will charge rent for the use of those amenities and potentially raise the rent over time. This is one of the most overlooked questions to ask when buying a condo.
Ask what assessments have been levied on the condo owners recently and how often new assessments are implemented. The older the complex, the more frequently you may be assessed for things like new roofs and electrical upgrades.