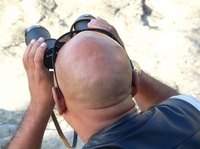 Selecting head covering for a shaved head is strictly a matter of personal taste. If you are a biker, you might want to wear a skull cap. If you are a woman who lost her hair to chemotherapy, you'll want to wear a snappy wig. Basically, you have to figure out what you are trying to achieve by wearing a head covering and use it as your basis for selecting the right one.
Determine the function of your head covering. Is it to hide the fact you have a shaved head? Is it to protect your shaved head from the sun? Or, maybe it is to make you look stylish? Figure out how you want your head covering to function and use it in your search for the right one.
Visit a wig shop. Wig shops not only carry wigs, they also carry toupees, weave pieces, scarves and other hair accessories.
Check out your wardrobe. What is your style? Do you like to wear long flowing skirts and dresses? Then, an elegant scarf hat will be the perfect head covering for you. You want to be sure that whatever you choose fits the clothes you wear on a regular basis.
Take a new piece of head gear for a ride. Thinking about buying a certain wig? Ask the store if you can take it or a cheap replica for a test drive. Then, wear it for 24 hours and see how you feel. If you feel great, it is the head covering for you.
Ask an honest friend. If you really can't figure out what head covering to wear, ask a friend who won't hold back the truth. He will help you pinpoint which head coverings look nice on you and are appropriate to wear.