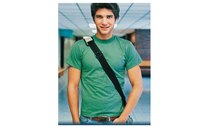 For some guys, college is the first time they have to independently make decisions on what to wear. In the end, the rule to live by is finding well-fitting basics that can be mixed and matched for each occasion. Building an efficient closet will allow you to have the freedom to spend minimal time getting ready while reaping the immediate benefits of looking sharp.
Things You'll Need
Boxers
Socks
Short-sleeve T-shirt
University T-shirt
Button-down, collared shirts
Sleeveless shirts
Sweaters
Jacket
Blazer
Jeans
Black slacks
Casual shorts
Sweatpants
Swimming trunks
Flip-flops
Dress shoes
Athletic shoes
Backpack
Tie
Find clothing that fits. This is the most important aspect in choosing clothes.
Smell good. Find body wash, deodorant and/or cologne that fit your own physical chemistry.
Get the day-to-day basics. Your basics are items that you can easily mix and match without second thought. Stock your closet with well-fitting, basic short sleeve T-shirts in neutral colors like black and white. Take the time and save the money to find some great-fitting jeans. Get a backpack or "man bag" for school.
Get cool weather basics. Have hoodies, sweaters and a jacket.
Get warm-weather basics. During warm weather, flip-flops and well-constructed shorts are a common uniform of choice for guys in college. Also, find basic accessories such as a pair of sunglasses that fit your face, and a baseball hat.
Get workout gear. If you plan on going to the gym, plan on getting athletic shoes, sleeveless shirts, sweatpants and shorts. Going for a swim? Get a pair of swimming trunks. Show school spirit with a T-shirt that displays your university on it.
Dress to impress. For those nights out, get a well-fitting buttoned-down collared shirt, dark denim, and a nice pair of dress shoes. During cold weather, have a nice jacket or blazer. Accessories like a classic watch and belt add a finishing touch.
Have a professional outfit on hand for job interviews or presentations. Get a dress shirt in a neutral color and a tie in a complimentary color with a pair of well-fitting black slacks. Find a black business jacket if you prefer. Get dress shoes with matching socks.