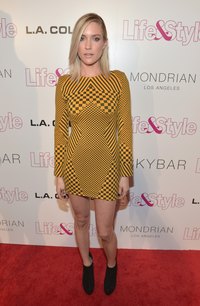 The 1960s Mod Style is all about short skirts, long lashes and tall boots. This look is relatively easy to manage, whether you're shopping for vintage or modern pieces. Mod style originated in the youth culture of 1960s London, then migrated to America; its influence continues to be seen even today. Go mod for a Halloween party or incorporate mod style into your everyday wardrobe.
Mod Minidresses and More
The minidress is the classic garment of the mod era. While the skirts were short, necklines were modest, sometimes with bows, peter pan-style collars, or turtlenecks. Minidresses were relatively straight, in a shift style, or A-line, flaring from the bust. While the mod girls of the 1960s often wore these with bare legs, you can opt for tights or even leggings beneath your mini if you'd prefer to be a bit more covered up. If you're not a fan of the mini, try a skinny, cigarette pant with an A-line top or blouse.
Cool Colors and Prints
While modern clothing can easily pass for mod, choosing the right fabrics and prints is key. In the early 1960s, color blocking was popular -- often in black and white or black and cream -- but also in bold primary shades, including red and yellow. In the late '60s, psychedelic prints and bold florals took their place on runways and in shops. The colors were often somewhat acidic, tinged with yellow, orange or green, rather than pure and true. Black and white became less popular in the late '60s in favor of more natural neutrals, like brown and green.
Smart Shoes and Boots
The mod mini of the 1960s was often paired with knee-high boots, typically with a heel, but boots of all heights were popular. The heels should be chunky, rather than pointed, and your boots should, if possible, match your dress. Flats were sometimes worn with cigarette pants, either in a ballet-shape or a flat, lace-up sneaker. Jackets were short and A-lined, and women's coats matched the straight or A-line shape of the dresses of the period. Finally, even mods wore gloves and a hat if all dressed up.
Happening Hair and Makeup
Create a mod style with your tresses by matching one of several mod looks. If you have shorter hair, keep it sleek with high-shine products, tucking your locks behind your ears. Chin-length or longer hair can go big. Set your hair with hot rollers to add oomph, then tease the crown and finish with hairspray. Keep your makeup light and simple. Use a delicate brown eyeshadow, a nude lip and long false eyelashes. Later in the '60s, women embraced heavier eyeliner, frequently winged in a cat-eye style at the outer corner of the eye. Use a liquid liner or a felt-tip style to achieve this look.