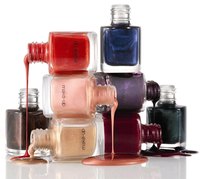 For decades, having your nails done in an eye-catching shade has been a staple of fashion. Whether you choose a sophisticated pink, classic red or punky purple, your nails have the ability to get you noticed. Big-name polish brands now carry colors in every hue you can imagine, from silver to cranberry to black to sapphire blue. Luckily, in today's fashion world, anything goes. Read on to find the best color for your mood, motivation and message—a little bit of color can go a long way!
Try blue tones of polish if you are feeling a little rebellious. Blue works well for occasions like going out to a club, visiting an art show or showing your family that you really are a non-conformist. Just stick to the darker, royal shades of blue—light blue is the color your nails turn after you die.
Wear red and be totally glamorous. Bright red nail polish is a statement of class and sophistication, and helps you channel your inner Grace Kelly. Modern-day glam goddesses have changed the look a bit by making the chic color a deeper, more sensual red. So pick your era and make sure your nails are impeccably done: no color is less forgiving for blemishes than red.
Paint on gold polish if you are feeling sassy. Light, shimmery golds are great for summer sparkle, while darker brassy colors work best in the fall. However, if you have pale skin or skin with a yellowish undertone it is recommended you stay away from golds as they will emphasize the lack of color in your skin.
Go pink if you are feeling a little girly. Pinks are the nail polish equivalent of the little black dress - you can find a shade appropriate for any occasion. Pale pinks are flattering for adding just a hint of color to your nails, while vibrant magenta and raspberry colors scream "good times, here I come!" Corals are a universally flattering color of pink that work especially well for toe nail polish during the summer months.
Add some green polish to your nails if you are in the mood for something really different. Neon greens say city-chic while darker greens are hippie-fabulous. Unlike the blues, feel free to try a pastel, minty green color for spring—it will not only look great with any skin tone, but it will also be fresh and fun.