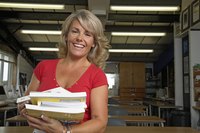 Styling an ensemble around a flattering neckline helps you create a put-together look. The right neckline balances your face and upper body, and gives the illusion of a slimmer figure. A useful tip for figuring out your face shape is taking a dry erase marker and drawing around the outline of your face in the mirror. This method helps point you in the right direction when it comes to finding flattering necklines. Now you can spend less time choosing outfits, and more time having fun while looking your best.
Oval Faces
Oval and oblong face shapes are generally long and slim with a somewhat prominent, rounded chin. These elongated face shapes are the most versatile when it comes to choosing a neckline. While most styles work, the best choices for oval faces include V necklines, cowl necklines and sweetheart necklines. These styles enhance the slimming effect of a long face shape with an angular touch to balance a rounded chin. Scoop necklines and boat necklines create a softer contrast to oval and oblong faces. Wide boat necklines are a comfortable pick for summer tops and dresses, and scoop neck T-shirts look more flattering than a classic crew neck.
Round Faces
Round faces tend to have a more even, circular shape, with prominent cheeks and a rounded, less prominent chin. Wear open as well as elongated necklines to balance this face shape. An open neckline such as a square or boat neck draws the eye wider than the face and creates the look of a broader shoulder. Plunging necklines draw the eye downward for a more elongated, slimming appearance. Go with deep V necklines as a sultry choice for evening. The V neck is a more suitable T-shirt neckline than the jewel or crew neck. Create this look at the office with a one-button blazer, rather than two or three buttons. Even with a shirt underneath, this style elongates the neck.
Square Faces
Square shaped faces are defined by a strong jawline and high cheekbones. Flattering necklines soften these features and create a more feminine look. Choose round necklines like a crew neck, scoop neck and cowl for both tops and dresses to balance an angular face. Warm weather styles like a halter neckline and cut-in shoulder round-neck tank top bring the eye in and help soften a square jawline. Avoid wide lapels on collared shirts and jackets, as they can enhance the width of the face and jaw. A turtleneck or mock turtleneck looks chic and flattering during cooler seasons.
Heart and Diamond Faces
Heart and diamond shaped faces are more angular versions of round faces. They are usually widest at the cheekbones with a pointed chin and angular jawline. The chin is the smallest point on these faces, so drawing the eye away is key to creating a flattering look. Wide necklines offer balance, so opt for a boat neckline, square neckline or scoop neckline. The draping of a cowl neckline is another way to soften the look of a more angular face and chin. Try strapless dresses with a straight neckline for evening or hot summer days, because they bring focus to the shoulders and away from the chin.