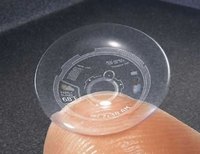 Increasing numbers of women and men are wearing contact lenses, because they are becoming much easier to put in and take out and so many different types are available from which to choose. Depending on a person's work responsibilities, outside interests and social activities, there is a contact lens that is the right fit. Below you will learn how to easily put in your toric contacts. This is very similar to the way you would put in most other contacts as well. Toric lenses come in either soft or gas-permeable (GP) forms. They are designed specifically for individuals who have astigmatisms.
Things You'll Need
Soap
Water
Lint-free towels
Gas-permeable or soft toric lenses
Contact solution
Make sure that you always wash your hands with soap and warm water before putting in your contacts. Germs are always a concern when getting near your eyes. You will want to touch the lenses as little as possible.
Touch one of the lenses with your pointer finger so it lightly sticks to the tip. Then, put the contact in the palm of your other hand. Put several drops of the solution given to you by your vision care specialist and use your index finger to rub it for around about for 15 or 20 seconds. Or, put some of the solution on your finger and and rub the liquid over the top and bottom of your eyelashes. The part nearest your nose is most important, because that is where the tear ducts are.
Hold up the contact to the light and double-check that it is clean and has no dust or debris. You also want to make sure that it is not inside out. If correct, it will curve like a semi circle. However, if it's turned inside out, the rim of the lens will be pointing to the side instead of upward. It will still go in your eye but will feel uncomfortable.
Look for the very light line that is marked on one side of the lens. This is only the case in toric lenses. The line extends vertically down the lens. After you see it, use the free index finger to spin the lens around until this line is facing toward you. This way, the contact will go to the bottom of your eye when you insert it. If you have difficulty seeing this fine line, then wear your eyeglasses until you are ready to put the lens into your eye.
Use the middle finger to gently pull your top eyelashes upward. Next, use the middle finger of the other stable hand to pull your lower lid down as you put the contact in. Keep your eye open and try not to blink. Learning the right speed to put the lens in will take a little time. If you go too fast, you may poke your eye; if you go too slowly, the lens may fall off your finger. While your fingers are separating your eyelids, move your in all different directions to help it the lens settle into place. Finally, push your lower lid up and gently release it.