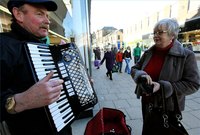 How to Make Money as a Street Performer. If you have a special talent and want to break into show business while making some money in the process, consider taking it to the streets. You can sing, dance, do magic tricks, play a musical instrument, tell jokes, do a mime act or juggle to entertain passersby.
Perfect your act. The best way to make some money and get recognized by talent agents is to give the best performance every time you're out.
Find a good location to do your act. Busy street corners are great, as well as subway entrances and sidewalks in front of large stores with heavy foot traffic. Larger towns are better for this, like New York City. You may have to move locations a few times until you find one that works best for you. Take into account that you'll have to get food and use a bathroom periodically.
Think about the best time of day to perform on the street. This varies from location to location, so maybe you can do mornings at a busy commuter train station and evenings outside a large grocery store.
Check with your city to make sure you don't need any type of permit to be a street performer. Also, some stores don't appreciate having a performer outside their entryways so you may need to check with their managers before you get started.
Dress appropriately. You don't want to look like a beggar, you want to look like a performer. Your clothes should match the act you're performing. Dress appropriately for the weather as well. You may need to get creative here.
Put out a tip jar of some kind to collect donations from your audience. You can be creative here, too. For example, if you play the guitar, you can open your guitar case so people can throw money into it.