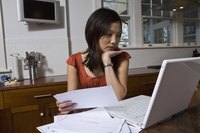 Managing your monthly bills isn't rocket science: It's a simple matter of knowing how much you earn and how much you spend. If you aren't earning enough to cover your expenses, you have two options. You can take on more work by turning a hobby into a job or finding a part-time job, or you can cut your monthly expenses by prioritizing things in your life. For instance, if you don't really need that magazine subscription or the expensive data plan on your phone, it is time to cut some of those things out.
Write down your monthly income. Your income isn't just what you earn at work: It can also include your Social Security benefits, welfare checks, unemployment compensation, tax refunds and gifts. If you work for tips or commission, look at previous pay stubs or do your best to estimate how much you earn on average each month.
Write down your fixed expenses. Fixed expenses are things that don't change each month, such as your housing, cable, Internet, car payments, student loan payments and monthly service/membership fees. Then, list your variable expenses, including groceries, cellphone bills, utilities, taxes, grooming and entertainment. Don't forget about dependents and pets, too: Kids' piano lessons, sports fees and animal food and bedding all count as part of your budget.
List all other expenses that don't fall into a monthly category. For instance, this includes that six-month car insurance payment and the oil change you pay for every three months. This also includes holiday and seasonal expenses. Add all of these expenses and divide them by 12 to see how much they cost you each month.
Add your fixed and variable monthly expenses: This is the total you owe each month for your bills. Now, compare this amount to your monthly income. Ideally, there should be some breathing room between your income and expenses -- Richard Jenkins at MSN Money suggests your expenses should be at or below 60 percent of your income. The other 40 percent should go toward retirement accounts, short- and long-term savings, and spending money for whatever else comes your way.
Develop a system for tracking your bills -- especially if you have an overwhelming number of both paper and electronic bills to keep track of. It might be enough to keep a monthly checklist somewhere visible at home. Once you've paid a bill, put a check mark next to that expense for that month. Or, if you budget wisely, you could set up an auto-pay schedule that pays your bills automatically from your checking account each month. Be careful, though. If you have a habit of overdrawing or cutting things too closely, auto-pay is not for you.