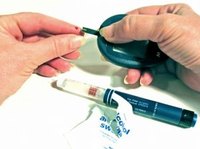 Once you have type 2 diabetes, it is not easy to reverse, but it can be done. Type 2 diabetes reversal involves commitment on your part, and a lifestyle change that you are willing to adapt to for the rest of your life. Of course, eating right and exercise play the biggest roles in reversing the disease. Once you reverse it, it will come back quickly if you fall off the wagon for any length of time.
Things You'll Need
Fresh foods, organic is best
Supplements
Choose a healthy diet that will balance the sugar in your body. Foods in this category consist of fresh fruits because they are natural forms of sugar, and not processed. Organic fruits are the best choice.
Eat foods that help detoxify your liver for better function. These foods include green tea, which is very popular these days, along with artichokes, cruciferous vegetables such as broccoli, cauliflower, and kale, which also have anti-cancer properties.
Avoid all processed foods such as cheeses, fruit juices, canned fruits and vegetables, and artificial sweeteners. These types of foods no longer have their natural nutritional qualities, and are generally made for convenience and shelf life, among other reasons. They have no role in a diabetic's diet.
Skip eating three big meals a day. Shoot for four to six smaller meals throughout the day. This will help with your metabolism and balance your body's sugar levels.
Take supplements as prescribed by your doctor. These supplements may likely include fish oil, a multivitamin, and other supplements as deemed necessary. They are important part of regulating your body's function.
Start walking 30 minutes day at least 3 times a week. This regular exercise can cut down on the progression of diabetes, and even reverse its effects. With the approval of your doctor, increase your exercise as tolerated targeting 1 hour a day for 5 days a week for best results.
Minimize stress in your life. Consider practicing yoga or meditation on a regular basis.