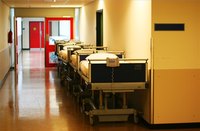 Getting wisdom tooth surgery can be a scary and painful operation. It's important to be thoroughly prepared before you go into the hospital or oral surgeon for your treatment. If a wisdom tooth simply needs to be removed and is already above the skin, you probably will be given a local anesthetic and kept conscious. If your wisdom teeth are impacted or under the gum line, you will probably need to be put under with anesthesia. Preparing for wisdom tooth surgery, whether an anesthetic will be used or not, is a complicated process. Follow the steps below, plus your doctor's instructions, to ensure a safe and quick procedure.
Things You'll Need
Vaseline
Toothpaste
Dental floss
Hydrogen peroxide
Toothbrush
Pajamas
Hairband
Slippers
Vitamin C supplements
Calcium supplements
Do not eat or drink after midnight the night before your surgery. This rule remains the same whether you are given a local anesthetic or knocked out completely. If you have had surgery before, your doctor has probably told you a rule similar to this. Try to eat a healthy and nourishing diet a week before your surgery to help to keep your body's natural defenses up. Make sure to take vitamins for the week before the surgery including vitamin C and Calcium supplements.
Brush your teeth very thoroughly the night before the surgery and be sure to floss, especially during the week before the surgery. Because of the surgery, you will probably be unable to brush your teeth normally for several days or weeks, so be sure to get them completely clean now. If possible, have a dental cleaning before your surgery.
Rinse your mouth out with hydrogen peroxide the night before the surgery. Combine 1 part water and 1 part hydrogen peroxide, swish for one minute and spit out. Rinse thoroughly with water afterward. Hydrogen peroxide rids the mouth of harmful bacteria and prevents infection.
Spread Vaseline over your entire mouth area the night before surgery. Apply on the very inside of your lips as well as around your lips. During wisdom tooth surgery, your mouth will be held open for a prolonged period of time which will cause lip cuts and chapping.
Wear comfortable, loose-fitting clothing like sweatpants or pajamas to your surgery. You will not be permitted to wear sneakers or shoes, so be sure to bring slippers with you. You may be asked to wear a hospital gown, but because the surgery will be in your mouth, you may be able to wear loose clothing like a t-shirt and sweatpants instead.
If you have long hair, be sure to bring a hairband or headband to tie your hair up before surgery. You will have to tie your hair into a comfortable position depending on the surface you will be lying on during surgery, so be ready to adjust your headband or hairband accordingly.