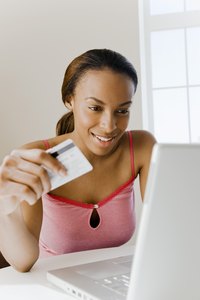 The key to successfully monetizing a small-business website lies in your approach. Although jamming your website full of advertisements might seem like a good idea, too many advertisements -- and advertisements in the wrong places -- might actually drive potential customers away. Think instead about filling your site with valuable, relevant information using a technique called pre-selling to entice customers to buy.
Steps to Achieving Monetization Goals
Update your site on a regular basis, filling it with informative and interesting content that captivates potential customers and encourages them to keep returning. For example, if your site doesn't include a blog, now is the time to add one. Use it to tell customers what's going on in your business as well as new trends in your industry. Write feature articles or include videos that tell customers how to use and get the most from your products. Include product reviews -- and encourage customers to comment on products they've purchased -- as a way to help customers make buying decisions. Pay attention to comments, as they are invaluable in helping you decide what products to sell.
Make money by promoting products or services for other companies via affiliate marketing, but do it wisely. A site filled with banner and sidebar advertisements is more likely to annoy customers than help you achieve monetization goals. In reality, most customers don't even pay attention to banner ads. For example, a 2013 study conducted by the online advertiser InfoLinks found that only 14 percent of people surveyed could recall the last display ad they saw online. More importantly, the company or product advertised within the space. In addition, less than 3 percent reported the ads they did see were relevant to them. A better approach is to use your blog to pre-sell affiliate products, and include textual links to the seller's website.
Encourage customers to add their names to your mailing list. For example, where you once placed a sidebar advertisement, place an e-mail newsletter sign-up form. Build trust by including a link to your privacy policy that clearly states your business won't sell or share their names or email addresses. As the online marketing expert Brian Clark notes, e-mail marketing not only provides a direct way to turn a conversation into a sale, but also often leads to information-sharing. The key is to fill e-mail communications with valuable content just as you do on your website.
Make it easy for customers to buy from you. The content on your home page should focus on how your products or services can solve customers' problems. Make it easy for customers to navigate through your site and make sure links for your check-out page are easy to find. Include thorough product descriptions using verbiage customers understand. Link thumbnail photos to a product detail page that includes a high quality, larger image of the product so customers can view items in detail.