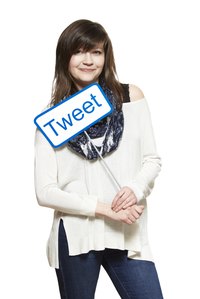 The concept of a short marketing message designed to appeal to a broad audience was around long before Twitter hit the scene. Ad agencies have generated tag lines and slogans for decades; Twitter is the social media extension of that type of marketing. Today, small-business owners have a wealth of marketing tools at their disposal, many of which cost nothing but time. Twitter is one such tool, and it can be used to promote a business, gain new customers, and keep existing ones coming back. The 140-character format is short and powerful, but successful Twitter marketing calls for careful strategy and great writing packed into those one-liners.
Promoted Tweets or Organic Growth
The best social media growth is organic, where your followers spread your messages on their own out of sheer enthusiasm for what you have to say. However, paid tweets may have a role in your strategy. Twitter's new Quick Promote feature is used directly from the Twitter Analytics dashboard and is well suited for small businesses with limited advertising budgets. A promoted tweet is 32 percent more likely to engage viewers, and it doesn't have to cost a lot. Start out small with a $10 or $20 budget to gauge results before putting more money into it. Whether you decide to promote tweets or not, Twitter Analytics gives you a useful look at activity and it's remarkably simple to use. Just log in to Twitter Analytics using your regular Twitter login information, and you will immediately see a useful guide that shows engagement and impression metrics for your most recent tweets.
Twitter Tips for Business
Hashtags are a powerful way to get more coverage but don't overdo it. Some marketers create tweets with too little content and too many hashtags. Limit tweets to one or two hashtags for best results. Don't stop at just creating great tweets though; take time to refine your Twitter bio and interact with key influencers, such as high-profile bloggers or journalists who might give you a mention. Another common practice is to run special deals for Twitter followers such as offering a coupon for the next group of people who retweet a particular message.
Third-Party Apps and Twitter Feeds
Placing a Twitter feed on your website is simple. For example, WordPress has a plugin that displays the most recent tweets in a website sidebar, thereby gaining broader coverage for your message by broadcasting your latest tweets on your website or blog. Third-party apps like Hootsuite or Sprout Social can be useful in managing postings on Twitter and other social media platforms and scheduling postings; you can use them to schedule postings at regular intervals throughout the day. Use other social media tools like Klout to keep track of your influence and to determine whether your Twitter campaign is having the desired effect. Twitter's own TweetDeck is a great way to keep tabs on who's mentioning you and how often you are getting retweets. It can also help you keep tabs on what your competition is doing by allowing you to create lists of the tweets from different accounts.
Follow the Rules
The many available third-party tools make managing a Twitter account easy and efficient, but Twitter places some limitations on businesses. Using a third-party app to automate your tweets is acceptable, but Twitter guards against spamlike behavior. Including a link in a tweet is a good business practice but make sure that link goes directly to useful content and not to an interim advertising page. Keep your automated tweets relevant to the topic and do not create bulk accounts.
Engage Your Audience
A tweet may be short, but it shouldn't lack personality. Cultivate a personality for your messages that conveys what your business is all about and appeals to your target audience. Include photos and background images in your tweets that are relevant to your brand and write tweets with a casual but professional voice that focuses more on starting a conversation than simply putting out "buy me now" messages. Keep it light, witty and appropriate to your line of business. Invite readers to take action -- such as retweeting or clicking on a link. Engage with customers to show your personality to your readers. Let them know there is a real person behind the message.