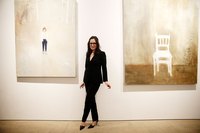 You can make money selling art by opening up your studio to visitors, displaying your work in galleries, marketing it online or making it available for rental to film or television companies. Building your profile online or directly with the art community can also increase sales opportunities.
Open Your Studio
Selling art in your studio can be a cost-effective way of making money. Set aside an area where you can display finished work and meet collectors. Giving collectors the opportunity to meet artists and discuss their work in detail is an important advantage of opening a studio, according to ArtBusiness.com. Set and publish times when your studio will be open to visitors. Show prices on each piece of art and include work at a range of prices to suit the budgets of different buyers.
Display Work in Galleries
If you don't want to sell in your own studio, offer your work to galleries. Look for galleries that show the type of work you create. Find out details of upcoming exhibitions and ask gallery owners to include your work in their shows. Establish terms of business and levels of commission on sales. Offer gallery owners information to help them sell your work, including biography and background notes on each piece of art.
Put Your Work Online
Selling your art on the Internet gives you the opportunity to communicate with a larger audience than you could reach by displaying in galleries or a studio. You can set up your own website or use the facilities of a commercial art website. Commercial sites display digital images of the work of a range of artists. The site operator deals with order processing and shipping and charges a commission on the price you set. (see reference 2) if you set up your own website, include an order form and mechanism for taking payment.
Offer Art for Rental
Art rental companies provide film and television production companies with art for use in movies and television. You submit images of your work to the rental company. If they accept it, they add the work to their database and negotiate fees with their clients. Some rental companies arrange to collect work from artists and deliver it to the set.
Build Different Revenue Streams
Artists need to find different ways to earn money from their art, according to Forbes. In addition to selling original works online or through galleries and studios, you can also earn income by offering limited edition prints or digital copies of your work. Offer copies of your work to companies producing calendars or greeting cards and produce simple artworks that you can sell as low-or medium-priced gifts.
Build Your Reputation Through Contacts
Building your profile can help you increase sales. Take the opportunity to meet art critics and journalists at gallery events and offer to discuss your work. Create a blog on your website to discuss your own work or comment on trends in art. Offer to speak about your work to amateur art groups. Contact interior designers who recommend and buy art for their clients.