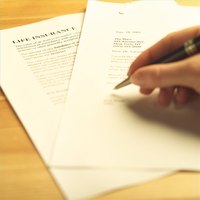 How to Get Life Insurance if You Have Medical Problems. Even if you're not in the best of health, life insurance coverage at a reasonable cost is possible.
Things You'll Need
Term Life Insurance
Whole Life Insurance
Getting Ready to Apply
Write down the names, addresses, and phone numbers of all the medical professionals, agencies, clinics, and hospitals you have used in the last 10 years.
Make a list of the medications you currently take. Be specific about the exact amount and frequency of dosage (for example: Donalax, 30mg, three times daily).
Recall the approximate dates of any major adult life events affecting your health and write them down, earliest first.
Disregard accidents from which you fully recovered; they are not considered in underwriting.
Summarize all positive aspects about your health condition, such as "never smoked," "quit smoking in 1974," "take walks three times a week," etc.
Organize all this information in a folder and make at least one photocopy.
Applying for Coverage
Use your own insurance agent, or seek an insurance professional with experience in placing "impaired-risk" cases.
Make at least two formal applications for insurance to companies that are known to be aggressive underwriters.
Apply for the amount of death benefit that your beneficiary(ies) actually need, according to your calculations and the advice you have gotten from trusted financial professionals.
Agree to take whatever medical tests and exams are required (they will be paid for by the insurance company) as soon as possible after you finish filling out the application forms.
Considering the Offers
Direct your agent to provide written documentation of any and all coverage offers that result from your applications.
Request a letter of explanation from any company that rates or declines you.
Choose the offer that gives you the most insurance coverage and policy guarantees for the least cost.
Regardless of the offers, have the insurance company send the results of all exams, tests, and lab work to your doctor for your files.