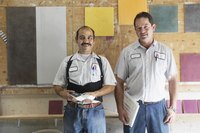 It's not OK to evade taxes that you owe. However, it's perfectly legal to plan your financial transactions to avoid taxes. Certain types of income are taxed at lower rates or aren't taxed at all. Research tax deductions and credits and don't hesitate to take them if you qualify. Increase your tax withholding during your year for a bigger refund at tax time and amend past tax returns if you missed any credits or deductions.
Take more deductions. Maximize contributions to your traditional IRA or 401(k), which you can deduct from taxable income. If you itemize deductions, increase your donations to charity for the tax write-off. If you moved more than 50 miles for work during the year, you can deduct your moving expenses as an above-the-line deduction. Keep track of medical payments and unreimbursed employee business expenses to deduct on Schedule A.
Pay more of your taxes throughout the year. Although this doesn't lower your total tax liability, it means a bigger refund when you file your taxes. Ask your human resource representative to increase your withholding or make estimated tax payments to the IRS throughout the year.
Reduce your taxable income. Switch from investing in traditional bonds to municipal and state government bonds that offer tax-free interest income. Time your investment sales to lower your capital gains tax. Gains on investments and securities held for less than a year are taxed at ordinary income rates while long-term capital gains are taxed at a lower rate. If you're going to make a gain from a sale, wait to sell investments and securities until you've held them at least a year.
Look for additional credits. Review the terms of big-ticket credits, like the Earned Income Tax Credit, educational tax credits, and the Child and Dependent Care Credit, to see if you qualify. Credits are also available for first-time homebuyers and taxpayers who purchase certain energy-efficient vehicles.
Review your tax returns from the last three years and look for missed credits or deductions. If you find any that you qualified for but failed to take, amend your tax return to get a tax refund. If you're owed a refund of taxes paid, the IRS allows you to amend tax returns from the last three years and doesn't charge any penalties or fees.