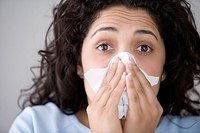 How to Prevent a Flu. Maintaining a healthy immune system is your best bet for avoiding the flu, a.k.a. influenza. Avoid the tissue box this year by following these simple steps.
Avoid sharing drinking and eating utensils with people who are sick.
Wash your hands before eating'it really does help keep germs away.
Increase your vitamin C intake'which may boost your immune system'by eating ample amounts of fresh fruits and vegetables. Oranges, tomatoes and broccoli are good choices.
Drink at least eight glasses of water a day. Herbal teas and diluted fruit juices are good options for increasing your water intake.
Get enough sleep. Most people need at least 7 to 8 hours a night for optimal rest.
Manage your stress. Chronic stress can weaken the immune system.
Take a multivitamin every day to make sure you are getting enough vitamins and minerals.
Exercise regularly'it's been shown to reduce the occurrence of colds and flu.