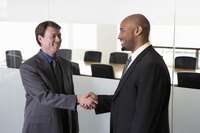 Shyness can make social situations uncomfortable and makes meeting new people difficult. Role playing, challenging negative thoughts, changing your mindset and setting goals can all help you to get rid of shyness for good.
Role Playing
Role playing can be good practice to overcome shyness because it helps teach you how to deal with challenging social situations, according to the American Psychological Association in "Painful Shyness." Find a family member, a professional or a friend that you trust and ask them to role play with you. Tell them to challenge you by asking you tough questions that you might be asked in social situations, especially ones that really make you nervous. Get used to giving answers more confidently by practicing different scenarios. Think of it like studying for a test, where passing means less shyness.
Challenge Negative Thoughts
Many who are shy have negative thoughts or concerns about getting socially involved. To combat this and reduce shyness, challenge these thoughts when they pop up. If you find yourself thinking, "I might say something stupid," immediately replace that thought with, 'I'm smart and have good ideas." Make sure you come up with replacement thoughts that you believe. Replacing them consistently will reduce the number of negative thoughts overall and help you to reduce that pesky shyness.
Change Your Mindset
If you change your mindset about shyness you might be able to combat it. For instance, if you think that you are abnormal for feeling this way, consider that different cultures have different ideas about what "shy" is. For those in other cultures, what you consider shyness might be considered respectful or just normal, according to researchers Stefan G. Hofmann, Anu Asnaani and Devon E. Hinton in a study titled "Cultural Aspects in Social Anxiety and Social Anxiety Disorder," which was published in Depression and Anxiety. Thinking about how your behaviors are probably within the normal realm might make you feel better about them, and reduce the fear of not fitting in. And feeling normal and reducing fear will likely lead to less shyness overall.
Set Goals
Striving toward attainable goals can help you to overcome shyness, says the American Psychological Association. This might mean saying, "This week, I will meet one new person and start a conversation." Once you achieve that goal, move on to a new challenge, such as, "This month I will talk to that gorgeous guy at work." Overcoming shyness can take time, but taking small steps toward it, and celebrating each victory along the way, will give you confidence and go a long way toward helping you to overcome shyness once and for all.