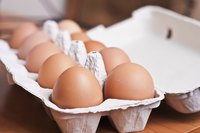 Poor nutrition may affect the look and health of your hair and nails, but there are no special foods or diets that will make your hair shinier or your nails stronger. It's all about eating a healthy, balanced diet so that your body gets the nutrition it needs for overall good health, including foods that help you meet the nutrients that are especially important for your hair and nails.
Adequate Protein
Getting enough protein in your diet is important for both hair and nail health. That doesn't mean you need to eat a high-protein diet, though. The recommended dietary allowance for protein for men is 56 grams a day and for women is 46 grams a day. One cup of yogurt has 11 grams of protein, and 3 ounces of meat has 21 grams. Other good sources of protein include beans, vegetables, soy foods, fish, poultry and milk.
Foods for Hair
Foods rich in vitamin A, pantothenic acid and biotin help promote hair health, according to dietitian Paula Mee. Vitamin A helps keep your hair healthy and shiny by acting as a source of lubrication for your scalp. Good sources include carrots, sweet potatoes and apricots. Pantothenic acid promotes cell growth, and biotin helps prevent hair breakage, Mee explains. You can meet your needs for both nutrients by eating eggs, nuts or brown rice.
Food for Nails
Biotin is also important for nail health, as is iron. Iron-deficiency anemia can cause your nails to form ridges, turn upward and become thin. Iron is found in a number of different foods including meat, seafood, poultry, beans, vegetables, grains and fortified cereals.
What to Avoid
While fish makes a healthy addition to your diet, limit your intake of fish high in mercury such as swordfish and mackerel. Too much mercury in your diet may lead to hair loss, according to the National Resources Defense Council. You may also want to limit your intake of foods high in sugar, says a 2013 article from the Huffington Post. Too much sugar raises insulin levels, and this increases the release of the male hormone androgen, which is known to cause hair follicles to shrink.