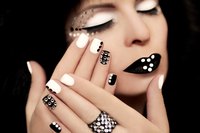 Intricate designs, interesting textures and a rainbow of colors -- all are found in the world of nail art. The ultimate dazzler, however, remains the rhinestone. It catches the light and adds sparkle and dimension to any manicure. Adorn your natural nails with a single, subtle accent stone or completely encrust the tips in glittering gems for show-stopping style.
Things You'll Need
Nail polish
Toothpick
Water
Cotton ball or pad
Top coat
Choose the size and type of stone, which may be made of acrylic, glass or synthetic crystal. Smaller, flat stones will stay in place longer than larger, more prominent stones.
Decide on the design and placement. Use a simple round rhinestone, or select from rhinestones shaped like flowers, hearts or teardrops. Plan your nail art design so that you know exactly where you'll be placing the rhinestones and to avoid messy and time-consuming mistakes.
Apply one coat of polish to all of your nails, then allow it to dry thoroughly. Apply the second coat of polish to the first nail on which you plan to put a rhinestone.
Dip the toothpick in water and blot the excess on a cotton ball or cotton pad. The moisture will help the rhinestone stick to the tool.
Use the toothpick to pick up the rhinestone and gently place it on your nail while the second coat is still slightly wet. The rhinestone will adhere to your nail as the polish dries.
Repeat for each nail you want to adorn, applying a second coat of polish and placing the rhinestones on the damp polish.
Seal acrylic rhinestones with a clear top coat to keep them in place and give you the longest wear. For crystal stones, use a fine brush to apply the top coat around -- but not over -- the stones.