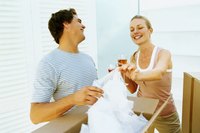 If you have the means, buying a home for your adult children is an option, but there are also other ways to assist them in purchasing their first place. Many parents opt to help their children with the down payment, however, monetary help isn't the only help you can offer. Your homebuying and homeownership familiarity, as well as your financial and credit know-how, can also help your children purchase their first homes.
Down Payment Gifting
A sizable down payment helps your child qualify for the best mortgage rates. You can help by gifting all or a portion of the down payment for their first home. Conventional and Federal Housing Administration loans allow down payment gifts, however, some conventional loans come with gift limits and your child may have to contribute their own funds to cover part of the down payment. You must provide a gift letter stating that the money is not a loan and that it doesn't need to be repaid. Your child's lender may also request copies of your bank statements to track the source of the gift funds.
Depositing Down Payments in Advance
Mortgage lenders are strict about documenting homebuyer funds. By depositing down payment help into your child's bank account well in advance, you can avoid the documentation requirements of gifting funds. If you deposit funds into your child's account at least three months before they apply for the loan, their lender may not need to track their source. Lenders typically review only the most recent two or three bank statements, therefore, by depositing far in advance, the deposit will not appear on their statements.
Buying a Home Outright
If you have the means to do so, you can purchase a home for your child. Acting as the lender and charging your child mortgage payments and interest benefits both of you. You can profit from charging interest and may offer your child a better interest rate than they might get from an institutional lender. Putting the home's title in your name also gives you control over the property until your child pays you back. You can also suspend or eliminate payments if your child runs into financial trouble -- assistance traditional mortgage lenders don't easily provide.
Educating Your Children
According to Bankrate.com, the single most important thing you can do for your child during the homebuying process is share your knowledge about homeownership. Your child may not have considered that the mortgage payment his lender quotes him doesn't include overlooked costs such as repairs, maintenance and homeowners association fees. Helping your child draw up a budget based on his income provides him with a realistic outlook on what it costs to be a homeowner.