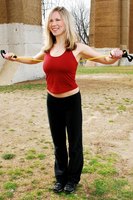 Elastic exercise bands are the ideal workout tool if your goal is to have hard, toned muscles. Because the stretchy bands are easy to carry with you and whip out at a moment's notice, you can actually work toward your body and fitness goals whenever you have as little as fifteen minutes to spare in your day. To get toned arms, you need to do high numbers of repetitions of the same exercises at a fairly low resistance level. As a result, an elastic exercise band can help you tone your arms without even breaking a sweat or leaving the comfort of your home or office.
How to tone arms using an elastic exercise band
Hold one handle in each hand. Do not clench your fists, but hold the handles firmly. The band should be looped behind you.

Stretch out your arms to the side so that they are parallel to the floor. The band will also stretch so that it is running along the back of your shoulders. Make sure that it is hooked around your elbows so that when you bend your arms it will remain taut.

Bend both your arms toward the front of your shoulders. The band will resist this motion, causing you to flex your upper arm muscles. You can do this exercise as many times as you like, but to tone your arms rather than create muscle mass you should do at least three sets of twenty repetitions.

Stand on the exercise band. Your feet should be shoulder width apart and you should have an equal length of band on each side. You hands will be holding the handles at your sides.

Curl your arms up toward your shoulders. The band will resist this movement, creating stronger biceps with repetition.

Return your arms to their starting position. Make sure that all your motions are smooth and steady. Jerky movements with an exercise band are even more useless than jerky movements with free weights. You can repeat this exercise as many times as you wish.

Do all elastic band arm exercises at least 60 times at a relatively low resistance. Toning muscles requires you do repeat the same motion over and over without necessarily straining the muscle. You should be aware of some pull on the band, but you should not need to strain or contort your body to perform the exercise.
Tips & Warnings
When you are trying to create toned muscles, you should eat a high amount of proteins and low amounts of carbohydrates. Concentrate most of your carb consumption in the morning before you work out, then limit carb intake severely for the rest of the day.
If you feel a strain or pain in your elbows or shoulders while doing these exercises, stop immediately and decrease the resistance on the band. If you still feel discomfort, contact your doctor.
Photo Credit http://www.watergym.com/media/watergym_barbells.jpg, http://i175.photobucket.com/albums/w122/wboxerw19/kpj001.jpg, http://z.hubpages.com/u/28609_f496.jpg
Promoted By Zergnet