Picking the right thread for your beading project is essential. While most beading enthusiasts have their favorites, each type of thread has different properties. They come in different strengths, flexibility and width. Some are better to work with when using crystals, some better suited to seed beads, but all are basically the base for any project you are working on. Following are just a few of the qualities of some of the more popular types so you can make an informed choice before you start your project.
Things You'll Need
An idea of the beads, crystals or gems you wish to use
Step 1
Consider Nymo. This popular strong thread was originally produced for shoemaking. Wonderful for seed bead work, it is strong, and flexible, much like silk, making your bead work supple. Made up of many twisted nylon fibers, it comes in both bobbins and spools, in a variety of sizes from 00 (smallest width) to D (for wide hole beads) and a wide selection of colors. It does however, fray easily and should be treated with beeswax or thread conditioner before using. It also tends to stretch, and so it is recommended to stretch it out by grasping each end of your cut string prior to beginning your project.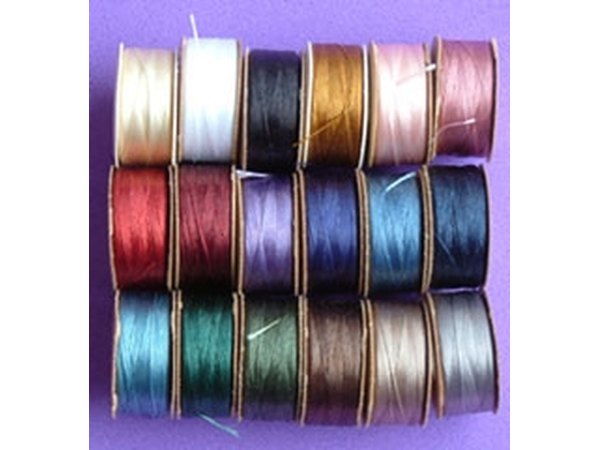 Step 2
Keep C-Lon in mind. This polymer thread is very strong, with many of the same characteristics as Nymo. Again, in a wide variety of colors and sizes, it is slightly stronger than Nymo and should be considered if the strength of your project is a consideration.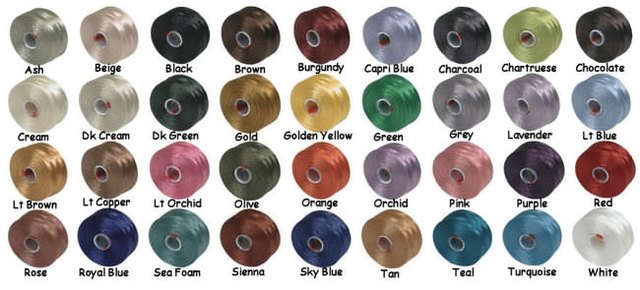 Step 3
Think about Silamide. Yet another thread made from nylon, this was developed for those people who work on upholstery. Already waxed and ready to use, it is made with only two-ply of twisted nylon. Available on cards or spools there are many different colors to choose from, however the variety is not as great as either Nymo or C-Lon. Beadwork done with this will be slightly stiffer as well. This is a great thread to use if you are working on beaded embroidery done with seed beads or delicas.
Step 4
Consider Power-Pro. Since this thread was originally developed for the fishing industry, it does not come in the normal width ranges but in "tests" which refers to the strength of the line. Extremely strong, it is a braided thread and is great to use for more abrasive beads, bugles and crystals. Because of its strength, this is a great thread to use for ornaments, heavy jewelry, and some beaded bags. It does not, however, come in many colors. In order to achieve a color, find a sharpie permanent marker in the color of your beads and pull the thread through the tip, then allow to dry. This thread can also be difficult to cut and harder to thread through a regular beading needle due to its thickness. It is recommended to use a 10 lb. test as this seems to be the easiest to work with to test strength.
Step 5
Know about fireline. Also from the fishermen in your life, this thread has many of the same characteristics of PowerPro, but is stiffer and will make your project more inflexible. It cuts clean and is easy to thread, but comes in only smoke gray and clear.
Step 6
Keep in mind that in addition to the above, there is a "new" type of thread that has been making the rounds. Popular with the younger generation, this stretchy thread is great for bracelets of any kind where no clasp is required. Made from elastic, it can be knotted or closed with crimping beads. Stretch-Magic is just one of this type of thread.
Tips & Warnings
Make sure any thread or tools use is supervised when being used by children.
Promoted By Zergnet