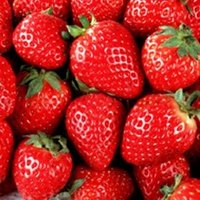 A salt scrub at a spa can cost up to $100, while beauty stores can charge a minimum of $15 for a small jar of salt scrub. This is quite a price to pay for something that can be easily made in the comfort of your own home for a fraction of the price. There's not much to a basic salt scrub and the ones you see in the body stores don't have anything in them that you can't easily find for yourself. This Strawberry Body Scrub is a refreshing twist on the basic salt scrub and is perfect for exfoliating your sun blushed skin in the warm summer months. Here's how to make your very own, low cost, Strawberry Body Scrub right at home.
Things You'll Need
5 large strawberries (fresh, not frozen)
1/2 tbsp. fresh ginger (finely grated)
1/4 cup olive oil (you may also use canola, grapeseed or sweet almond oil as well)
3/4 cup salt
1/4 cup baking soda
5 drops of strawberry scented fragrance or essential oil (optional)
Blender/food processor
Fork
Large spoon
Sealable widemouthed jars (glass or plastic)
Refrigerator
Small mixing bowl
Towel
Puree the strawberries to a thin liquid in a blender or food processor.
Combine fresh strawberry puree, ginger and canola oil in a bowl. Using a fork, mix thoroughly.
Add the salt and baking soda once the first three ingredients have been thoroughly combined Make sure that the liquid is completely combined with the solid. The salts need to be thoroughly saturated. Set aside and let sit for an hour.
Check your salt scrub mixture after an hour. There should be about 1/2 inch of oil on the surface, separated from the mixture. If you need to add more oil, do so now. Mix again and set aside.
Add the fragrance if the ingredients are fully combined. Mix gently with a fork.
Spoon the mixture into airtight containers and store in the refrigerator when you're not using it.
Apply the mixture to wet skin and exfoliate in a circular motion. Rinse with warm water and pat dry with a towel.