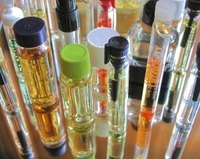 It seems like every month there is a hot new Fragrance coming out onto the market. Many Celebrities sell perfume that is not only almost impossible to find when it first comes out, but it can really be out of most people's price range. Why pay high dollar for a full bottle of perfume when you can get smaller sample sizes for free?
Things You'll Need
Magazines.
Department Store.
Empty Glass Perfume Bottle.
Read your favorite Fashion Magazines for the Articles and Advertisements that announce when upcoming Fragrances are going to be released to the Public.

Tear out the Pages that have your favorite Perfume Scent on them to keep as a reminder as to what Fragrances you will be asking for at the Fragrance Counter.
Up to a week before the Fragrance Debuts, plan out which Department Stores you will visit to get your free Samples.

The Morning that the Perfume Debuts, go to each Department Stores' Fragrance Counter and ask for a Free Fluid Sample.

Visit several Fragrance Counters in several different Department Stores until you have as much Perfume as desired.

When you have all of your Samples obtained, carefully pour each Perfume Vial into a decorative Glass Perfume Bottle.

Spray on and enjoy your free Perfume!