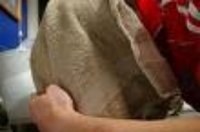 When facial pores are clogged, the result is often pimples, zits or blackheads. Skin blemishes can be painful and leave scars if not cared for properly. One way to help clear pores and avoid blemishes is to use steam to open them and release the oils that are clogging them up. The following is a simple guide to unclogging facial pores using items that are likely already in your bathroom and kitchen.
Things You'll Need
Water
Clean pot, bowl, or pan
Microwave or stove
Facial toner
Facial moisturizer
Facial exfoliator
Clean washcloth or towel
Cleanse your face, preferably with some type of exfoliating scrub that is specifically made for facial skin.
Dry the face with a clean towel or washcloth.
Apply lotion or moisturizer under the eyes to keep the delicate skin from drying.
Prepare a bowl or pan of hot water to boiling. You can use either a stove top or microwave to prepare the hot water.
Place your face over the steam for up to 15 minutes. Wipe off your face with a clean washcloth or towel every five minutes, or as needed, and then re-steam.
Splash your face with cool water and pat dry with a clean towel or washcloth.
Apply a facial toner made for your skin type, then apply a facial moisturizer, preferably an oil-free one.