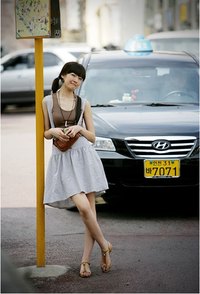 Women come in all different sizes and shapes. But we're all women and we have the pleasure of wearing fabulous skirts in all different sizes, shapes and colors. We must take this privilege and use it to or greatest advantage. The key to looking great in a skirt is finding that perfect skirt for your body!
Things You'll Need
First, you must figure out which of the descriptions below most defines your body shape, and then you can go shopping to find that perfect silhouette for your body!
Is your body very straight? There is not much change in size from your chest to your waist to your hips?The perfect skirt for you is one that tapers slightly in at the bottom and that sits low on the waist. Low waisted skirts will help elongate your torso. In terms of detail you can have fun with skirts that have lace or ruffles, but avoid skirts with heavy pleating at the waist. If you have thin legs, then show them off with shorter hem lines. Skirts that are fitted around the hips and flare out at the bottom will also look great on you as they will add some curves to your straight figure!
Are your hips the widest part of your body?The best skirt for your body is an A-line style. The skirt should drape smoothly down your hips and flare out at the bottom. Choose skirts with vertical details and avoid those with embellishments or pleats around the hip area. When choosing the hemline avoid skirts that hit above the knee or that hit the widest part of your calf. Thus, you want to choose skirts that hit right below the knee or at the ankle.
Are you chest and shoulders the wides part of your body?The perfect skirts for you are those that flare, as these will help balance your broad shoulders. An A-line skirt or a wrap skirt with some movement will look great on your body type. The key in choosing skirts for you is to try and balance your body, don't choose straight skirts or those that are too short; both will simply emphasize your broad shoulders.
Do you have a very curvy figure? A Marilyn Monroe type body?Choose skirts that accentuate your waist and legs! The pencil skirt was made for your body type! Today you should wear it with a belt and a tucked in shirt. This style will really accentuate your curves and your small waist. Avoid skirts that are too large or saggy, but at the same time don't choose skirts that are too tight or hip-hugging. Short skirts will also look great on you as you can show of your great limbs!
Most importantly: have fun and love your skirts!