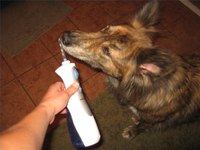 You've heard people rave about how wonderful it is to use a water pik and you want to find out for yourself if this is true. Be forewarned, however, unless you use a water pik correctly, it can be messy, annoying and even bad for your teeth. One aimed in the wrong direction can also make you gag. You can use a water pik with ease, comfort and excellent results with a few simple steps.
Things You'll Need
Choose a water pik that's right for you. Many styles are available, ranging from a single cordless to a set of piks the whole family can use. Some come with one nozzle head while others have a variety, including a supercharged nozzle or one made especially made for braces. Browse the selection and choose the one that fits you best.
Ready the water pik for use. For cordless models, this usually includes charging it for several hours before the first use. For other models, it will include hooking it up to a sink. Read and follow the specific instructions in the water pik's manual. Once ready, fill the reservoir with lukewarm water, for the cordless models, or adjust the water to a comfortable temperature in the sink.
Clean the front your upper teeth. Position the water pik at a 90 degree angle from your gums at the base of your teeth. Start in the back left or right corner of your mouth at the base of the furthest molar. Turn on the water pik and allow the water to cascade at the back base of the molar, hold for two seconds, slowly move around the base of the molar and between the furthest molar and its next door tooth, hold for two seconds. Repeat until your upper outer teeth are cleaned.
Repeat the process for the back of your front teeth, starting at the back molars. Make sure to keep the pik at a 90 degree angle and hold for two seconds between teeth.
Continue the process for your lower teeth, starting at the outside back molars and moving to the inside until your entire mouth feels sharp and fresh.