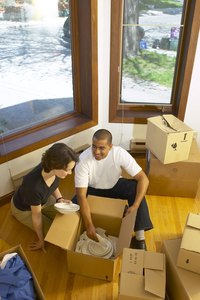 If your tenant has left personal belongings in your rental property, check your state's laws for the correct procedure to follow. Each state regulates abandoned property differently; however, there are a few guidelines that many states utilize. In many states, you must store the property for a certain period and mail a notice to the tenant before disposing of it. If the tenant does not claim the property, you may throw it out, keep it or, in some circumstances, sell it. Consult your attorney for advice.
Things You'll Need
Wait to dispose of a tenant's belongings until the rental agreement has ended. The agreement might end when the lease is up, when the tenant is evicted or if the tenant has abandoned the property. States set different regulations regarding when a tenant has abandoned the premises. In Oregon, the tenant must have been gone for seven consecutive days. In California, the landlord may act under "reasonable belief" of abandonment.
Document the tenant's abandoned property. Ask a disinterested third party to witness this act if possible. Create a list of all items left on the property. If items are inside closed boxes or bags, make a note of the bag, but do not open it. Take photographs or videotape the procedure, and write down an estimated value of the belongings.
Store the tenant's personal property in a secure location if your state requires it. States typically have a required period for storage of abandoned property, such as 30 days. However, if the cost of storage exceeds the estimated value of the property, several states allow you to keep the items or dispose of them without storing them.
Mail a notice to the tenant that lists the property, where to claim it and what you will do with it if it isn't claimed within the specified period. In some states, such as California, the tenant may make a written request for the return of the property; otherwise, you are responsible for giving the notice to the tenant.
Follow your state's rules for disposing of the property once the required period has elapsed and the tenant has failed to claim it. You might donate the items, throw them away or possibly keep them, depending on your state's laws. You might also sell the property and use the proceeds to pay for unpaid rent or damages to the property. Check with officials of your state before selling anything. Some states require the sale to take place at a public auction. Your state might also require you to turn over the proceeds to the state treasury.