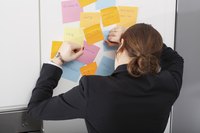 Bosses often struggle to toggle the fine line between a solid management approach and holding the reins too tightly, hovering over dutiful, capable and committed team members. If you worry that you are guilty of micromanaging your staff, or you know for a fact that you are doing so, you can take measures to restore balance, keeping your staff accountable without them dreading your approach to their work area.
Ask Yourself Why You Micromanage
Micromanagement is often more a reflection of a manager's own insecurities than anything to do with the performance of her staff. Ask yourself whether your concerns lie more with you or with your team members. If you find you are micromanaging, search for other ways to observe progress that are less obtrusive to your staff members than frequent visits to their desk, such as keeping spreadsheets that report productivity or holding weekly progress meetings with your team where you can discuss strategies for improvement for the team and as a team, if necessary.
Hire People You Trust
Work with your human resources team to find job candidates whose work philosophies are similar to your own, so you can build a team based on mutual accountability. Once you hire the right people, provide them with training that reinforces your approach and your expectation that they comply with that approach. Drawing the lines at the outset will help you step back and let your team do its job.
Discuss Your Management Style With Your Team
Sometimes, the honest approach works best. If you suddenly realize you are guilty of micromanaging your team -- you might note a mutiny afoot -- come clean with your team and let them know that you trust them and want to improve your communications and ability to delegate.