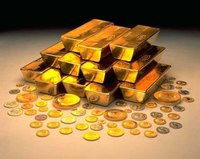 Gold, a perennial currency that has what many fiat currencies lack - intrinsic value. While the price of gold may rise of fall in a given fiat currency, many experts have shown that gold has a set value whereas fiat currencies like the dollar are prone to inflation. This means that in the long run, the gold price denominated in dollars, yen and pesos will go up making an investment in gold a great "hedge" against inflation. Investing in gold is just as easy and just as difficult as finding and purchasing gold in any form: jewelry, bars, nuggets and coins. T
Locate a gold coin dealer in your area using your local yellow pages or use the Internet to find an online gold coin dealer.
Decide what kind of gold coin you want to buy or sell. Gold coins come in many different types from commemorative and historical gold coins of varying purity to gold bullion coins that are almost pure gold. These coins also come in varying sizes. a good choice for a beginning gold coin investor is to stick with bullion coins like the American Gold Eagle or Canadian Maple Leaf Coins.
If buying at a local dealer, make sure and comparison shop or do your research beforehand to know that you are not paying to much for the coins. Usually, gold bullion coins are sold slightly above the current market spot price of gold that can be found on most investing news web sites like msnbc.com or gold tracking web sites.
Store your coins somewhere safe whether it be your local bank's safe deposit box or buried in your backyard, make sure you will have easy access to your gold when you decide you want to sell it.
Sell your gold coins at a respected local dealer or online on Ebay or a gold dealer web site. Make sure and check the value so you know you know the price you should be getting for your coins.