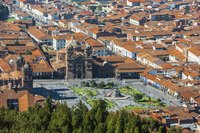 Peruvian law gives you several options for starting a business.Like the United States, you can set up a new business as a sole proprietorship, corporation, partnership or limited liability company. You can also open a branch of an established American company in Peru. To start a new Peruvian business, you usually need a business visa and a business license as well.
Visas and Business
The simplest way to visit Peru to set things up is with a business visa. Visas are available from the Peruvian Consulate, good for 12 months from the day it's issued. A business visa allows you to stay up to 183 days from the first day you arrive in Peru. To apply for the visa, you have to give the consulate basics such as your passport and a criminal record check. You also have to detail your business plan and prove you have enough money to support yourself while in Peru.
Incorporating Your Business
As in America, you have to select a name for your corporation, then search the Peruvian government's registry of names to see if the one you want is already taken. Once you have a usable name, you prepare a deed of incorporation with a Peruvian notary, which you can do online. You then sign the deed before a notary public, and pay her to submit it to the Register of Commerce. The Register submits your company name to the tax authorities, establishing your company as a Peruvian taxpaying business.
Municipal Licenses
Like many local governments in the United States, Peruvian cities require you take out a business license. Peruvian license approval is infamously slow and inconvenient, requiring repeated visits to city hall and lots of paperwork. Lima, however, sped up its license approval process in 2007. The number of necessary visits post-reform dropped from 11 to two. Almost all city governments require you, as part of licensing, to show them your incorporation paperwork and the property title for any land you own in the town.
Branch Offices
To set up a branch office of an existing company, you submit your U.S. articles of incorporation along with a certificate of good standing -- a certified statement that your company really exists. You also submit a certified statement you can legally open a Peruvian branch office. You have to tell the Peruvian government where the branch will be located, what business it will handle and how much capital it has. The branch must have a permanent legal representative in Peru with enough legal authority to solve any issues your company's activities cause.