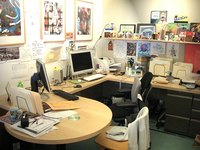 Owning a business is a dream for many Australians, and it is a dream that can come true with a little hard work. It has never been easier to start a small business in Australia, and with the age of the internet, it is now possible to bring that small business to customers around the world. No matter what kind of small business you would like to start, there are a few basic steps that must be followed to make sure you get up and running quickly, efficiently and legally. If you've ever wanted to start a small business in Australia, read on and follow these easy steps.
Things You'll Need
Think of an idea for your business. A business is certainly about making money, but there is more to it than that. You will be pouring your time and money into this business the way you would a child, so you may as well be devoting yourself to something you will enjoy. If you could do anything, what would it be? How many hours a week are you willing to give to the business? How well do you think the public will receive what you are offering? Contemplate these questions to come up with a good concept for your small business.
Write a business plan around your concept. Identify what your business will be, and what your goals are, both short and long term. Then come up with a plan for how you will achieve those goals. A business plan is a fundamental step for anyone who wants to start a small business, be it in Australia or in Zimbabwe. Try doing a search online for free business plan templates. There should be many for you to choose from. Download one and then fill it in with the details about the business you want to start, and you'll be on your way to having a successful small business.
Locate funding for your business. Let's face it: a good idea and a firm plan are a great start, but it usually takes money to start a business. You may be able to fund your small business on your own, or in some cases you may be able to obtain a small business loan from your bank. Other times you may need to search for a financial partner who will provide the start up capital in exchange for a percentage of the profits. Evaluate your options and utilize the funding resource that works best for you.
Submit a Form 201 to the Australian Securities and Investment Commission. This form will legally register your small business as a licensed entity in Australia. The form will need to be accompanied by a filing fee of $400 AUD. Note that not all small businesses are required to register their company name. If your business uses your own name as the company name, such as John Smith Trucking, then you are exempt from this step. Otherwise, the form will need to be filed to identify the business and its owner(s).
Open a business bank account. Any bank in Australia will be happy to open a checking and savings account for your small business needs. It is usually better to use a branch that has a local branch where you can sit down and speak to someone in person if needed, although any bank will work, regardless of location. Call several banks in your local area to see who offers the best rates on savings accounts, as well as the lowest fees on checking accounts. This will help you make a more informed decision about which bank to use for your small business.
Register for GST. Any business in Australia that has more than $50,000 AUD during any 12-month period is required to register for payment of the Goods and Services Tax (GST). You may register for the GST through the Australian Business Register, who will then provide your small business with an ABN (Australian Business Number). It is important to note that you must register when your revenues exceed $50,000 AUD, not when your profits exceed that amount. Making this distinction early on can save you a lot of fees and penalties later.