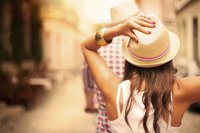 Hot weather can make it challenging to look fresh and fashionable. The right clothes will help you keep your cool, whether you're at the office, heading to lunch or planning a night out with friends. Look your best throughout the dog days of summer as hot weather wear moves beyond your old cut-offs to keep you looking your best.
Workday Wear
Simple changes to your office wardrobe will keep you comfortable all summer long. In a formal office that favors suits, look for ultra-light, tropical-weight wools. For a less formal office, choose natural fibers -- like cotton and linen -- for summer wear. Consider keeping a summer-weight sportcoat or light blazer at the office if you need to occasionally dress up a less formal outfit. For men, cotton polos and short-sleeved button downs are ideal for casual days. Women can opt for dressier tees, casual blouses, cotton skirts or slacks on casual days. Check office dress codes regarding graphic tees, sandals and other summer wear.
Polished Casual
Outside the office, look relaxed and chic while staying cool. The same rules for natural fibers apply for casual summer wear, but the styles change when you're headed to lunch with friends, planning a relaxed hike or out for a picnic in the park. For outdoor activities, high-tech athletic fabrics are an option for both men and women. Keep your summer style sharp by favoring clothes that fit well. Stay away from over-sized or slouchy pieces. Crisp shorts and high-quality tees work well for men and women. For a more feminine look, swap your tee for a light and lacy top.
Summer Semi-formal
When you're dressing up for dinner, a wedding or another special event, more formal clothing is in order. No shorts or short-sleeves here. You can opt for lighter colors and fabric weights, but the long pants and long sleeves are a semi-formal must. For some occasions, you can skip the jacket, but not the tie. For women, sundresses in a flattering style are ideal for many different summer occasions. Add a light wrap for evenings or air conditioning.
Fabulous Formalwear
Formal wear is typically strictly regulated. If you have a black tie occasion to attend, men will wear a tuxedo and women don a gown. Tuxes are relatively standard, regardless of the season, but if you're renting you can choose a lighter wool or opt for a white tux instead of classic black. Summer gowns are lighter in color, fabric and style. Skip the velvet in favor of silk or satin and consider a paler or bright shade instead of a dark or rich one.