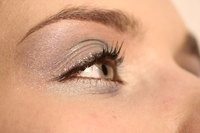 Whether your eyebrows are sparse or lightly colored, there are many ways to add color, depth and shape to your brows. After determining what shade of brow compliments your eyes and face, filling them in is fairly simple.
Things You'll Need
Begin by determining what shade of pencil, gel or powder would match your hair color or skin shading. Blonde hair is usually paired with taupe brows, while brunettes can wear darker shades of brown.
Next, you can choose which type of application you would like best. An eyebrow pencil is used to define or add color to the brow, however it can often look too harsh with a person's coloring. Use a lighter shade pencil to apply small strokes into the eyebrow to fill it in.

Try other types of eyebrow fillers until you find the one that looks most natural to you. An eyebrow powder is made specifically for filling in sparse eyebrows, and is applied with an eyebrow brush that has stiff, slanted bristles. To apply, simply brush the colored powder into the brows with short strokes.

Finally, try an eyebrow gel to add color and definition. There are tinted brow gels that come in mascara-like tubes and wands which can be used to polish the look of the eyebrow and add shape. To use gel, brush the gel into the eyebrow with the wand, and shape the eyebrows as you go.