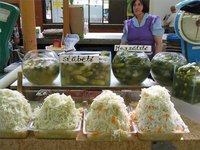 Fermented foods contain probiotics, and those probiotics promote healthy flora in the body. Traditionally fermented foods, unlike modern preservation techniques, actually increase in nutrition compared to their original state. Vegetables are preserved by the lacto fermentation process, which converts natural sugars and starches to lactic acid. Earlier cultures used lactic fermentation to help keep vegetables edible without freezing or canning. Now, there is a return to these methods for health reasons, as well as for flavor and taste. Here's how to eat healthy with fermented foods.
Drink kefir, a cultured milk product full of enzymes and micro organisms that team up to improve your health. Some nutritionists advocate drinking only kefir and not plain milk, noting that native cultures found ways to preserve their milk as cheese, kefir and yogurt.
Try Kombucha, a fermented beverage made from black tea and a solid colony of microorganisms that turn sugared tea into a healthy fermented beverage. The sugar is metabolized in the process, making the final product almost sugar-free. Raw organic Kombucha has been credited with stopping cancer growth and restoring vitality and health to the ill.
Eat sauerkraut made traditionally, that is, through a lacto-fermentation process. It should not be heated, canned or otherwise treated. Old-fashioned sauerkraut is made in jars and crocks and allowed to ferment in cool temperatures for several weeks before eating. It can be left in a root cellar or refrigerated. Some cultures would include a small amount of sauerkraut with every meal to aid in digestion.
Look for miso, the traditional Japanese fermented soy dish. This is one of the few acceptable ways to eat soy, which is rendered digestible only through the fermentation process. Un-fermented soy should be avoided.
Try other fermented vegetables, such as carrots, pickles, turnip and relishes. There are many recipes if you are interested in lacto-fermenting your own at home.